Sir Jagdish Chandra Bose CSI CIE FRS was known as an exceptional man who was a Botanist, Physicist, Biologist, Pioneer, and an early writer in Science fiction.
He made an instrument, the Crescograph through which we can see plant's growth and he also proved that plants can also feel light, cold, heat, noise, pain. Bose also looked over on radio and microwave optics.

Time and Place of birth
Jagdish Chandra Bose was born on 30 November 1858 in Mymensingh which is now in Bangladesh.
Early life
Jagdish Chandra Bose's father Bhagawan Chandra Bose was a member of Brahmo Samaj and his mother was Bama Sundari Bose. Bose in his childhood went to a Vernacular School because his father wanted him to learn his mother tongue before doing English.
In the year 1869 entered the Hare School and after completing he in Kolkata went to St. Xavier's School and for his graduation, he passed the entrance examination of the University of Calcutta and entered the St. Xavier's College in Calcutta, and there he met Eugene Lafont, Jesuit Father and he played an important role in Bose's life and helped him develop an interest in Natural Science. Bose graduated in Physics from the University of Calcutta.
Bose for his further studies went to England to the University of London to study medicines, but unfortunately, he had to quit as his health was not good. And listening to the advice of his brother-in-law who was also the first Wrangler, Bose got admission to Christ's College in Cambridge to study natural science.
Adulthood
Bose completed his college at the University of Cambridge and received his Degree in BA for Natural Sciences Triops, received a Degree in 1884 from the University College London in BSc also a DSc from the same college of London in the year 1896.
Bose met Prafulla Chandra Roy they met in London when Bose was a student at Cambridge and Prafulla was at Edinburgh and both of them became good friends.

Also, read about a Persian poet who is famous for his mathematical works.
After some time Bose got married to Abala Bose, she was a famous Feminist and a Social worker as well. Bose's huge support financially was his sister, Nivedita; she used to make sure that Bose was able to continue on his work and research properly.
Education and Career
Bose's education started at the school of Vernacular and then he entered Hare school and for his higher studies he entered the St. Xavier's School in Kolkata and for his graduation gave the entrance exam of the University of Calcutta and attended the college of St.
Xavier's in Calcutta and he went to London as well to study Medicine but came back because of health issues and entered the Christ's College, Cambridge and continued studying natural science and received his BA degree from the University of Cambridge and a BSc degree from the University of London.
Must Read: Father of Trignometry
While in Bose's career after his graduation he came back to India and was a professor at Presidency College and taught Physical Science, his salary was less than the other British employees and faced discrimination. Bose started an Institute in Calcutta in 1917 where many scientists researched about plants.

Contribution to Science
One of Bose's most famous experiments which he discovered in the year 1901 at the Royal Society of London showed just like humans plants have feelings too.
The Plant Research
Bose placed some bromide solution in a container and it is poisonous and put a plant in that container. Bose made an instrument called Crescograph, using his instrument he showed on a screen how the plant was responding to the poison.
The plant slowly with rapid to and fro movement died which everyone else was able to see on the screen, similarly, if an animal was placed in the poison the same thing would have happened to the animal. The plant died and Bose called his instrument Crescograph and did a lot of experiments moving forward.
The Radio Research
Bose researched radio waves as well, he improved an instrument which was used to detect radio waves called Coherer.
In the year 1895 Bose presented his research titled On the Polarisation of Electric Waves by Double Reflecting Crystals, and this research was published in the year 1896 by The Royal Society of London. At the same time, Bose met Guglielmo Marconi who was also doing the same research on radio waves in the year 1896.
Do you know who was the father of bookkeeping and accounting?
Honors
Bose's contribution to science was praised by a lot of scientists and, the British government in the year 1903 in the Order of the Indian Empire made Bose a companion there, Bose was also a companion for the Order of the Star of Indian Empire in the year 1912.
Interesting Facts
In 1917 Bose was knighted and in 1920 Bose was elected a fellow at The Royal Society. The Indian Botanic Garden Acharya Jagdish Chandra Bose was named after him.
Jagdish Chandra Bose was behind the invention of wireless telegraphy and he also held one demonstration in the year 1895.
Jagdish Chandra Bose's all modern equipment is preserved in the Bose Institute of Calcutta.
Bose wanted to study medicine but due to his illness, he then decided to study Natural Science.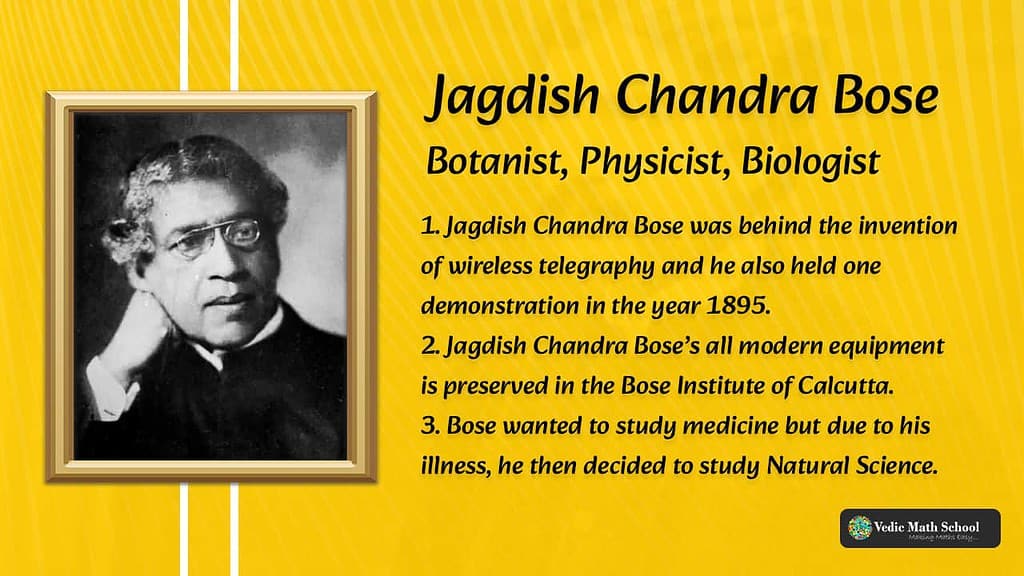 Death
Jagdish Chandra Bose died at the age of 78, in Giridih, Indian on 23 November 1937.

Books published
Abyakta, in the year 1921
Response in the Living and Non-Living, in the year 1902
Comparative Electro-Physiology, in the year 1907
The Nervous Mechanism of Plants, in the year 1926
Life Movements in Plants, in the year 1918
The Philosophy of Photosynthesis, in the year 1924
Sir Jagdish Chandra Bose his Life and Speeches, in the year 1920
Do you know the First Greek Mathematician?
Awards
In the year 1903, Companion of the Order of the Indian Empire
In the year 1911, Companion of the Order of the Star of India
In the year 1917, Knight Bachelor
Award with his Name
The Jagdish Chandra Bose Award for Research in Life Sciences, this award is in his honor.
Quotes
The true laboratory is the mind, where behind a lot of illusions we uncover the laws of truth.
Jagdish Chandra Bose
They who behold the one, in all types of changing manifoldness of the universe, belong to the eternal truth, onto none else, onto none else.
Jagdish Chandra Bose
Science was a human heritage belonging neither to the East nor the West.
Jagdish Chandra Bose
FAQ
When was Jagdish Chandra Bose born?
Jagdish Chandra Bose was born in Mymensingh which is now in Bangladesh on 30 November 1858.
What is the invention of Jagdish Chandra Bose?
Jagdish Chandra Bose's most famous invention was about Crescograph which showed that humans plants too have feelings and plants grow.
When did Jagdish Chandra Bose die?
Jagdish Chandra Bose died on 23 November 1937 in Giridih, India.
Did Jagadish Chandra Bose invent the radio?
Jagadish Chandra Bose invented the Mercury Coherer which was used to receive radio waves, Bose was also known as the father of wireless telecommunication.
Conclusion
In the end, Jagadish Chandra Bose contribution to the Indian subcontinent was really helpful and a lot of scientists praised his works, his way of finding that plants too can feel and his discovery on receiving radio waves was also praised his interest in medicines to natural science made him contribute to a great extent.