Shakuntala Devi
Shakuntala Devi - The Human Calculator
Shakuntala Devi : The Human Calculator
Shakuntala Devi was an Indian writer and mathematical wizard. She was popularly known as the "human computer" for making complicated calculations in her mind and effortlessly speaking out the results. 
India, a land famous for its contribution in the field of mathematics has always been proud of its mathematical prodigies and one such prodigy in recent times of modern India was Shakuntala Devi who was world-renowned & referred to as "Human-Computer."
Her exceptional abilities earned her a place in "The Guinness Book of World Records." She had beat the then fastest computer, UNIVAC's time of 62 seconds, and 13,000 instructions.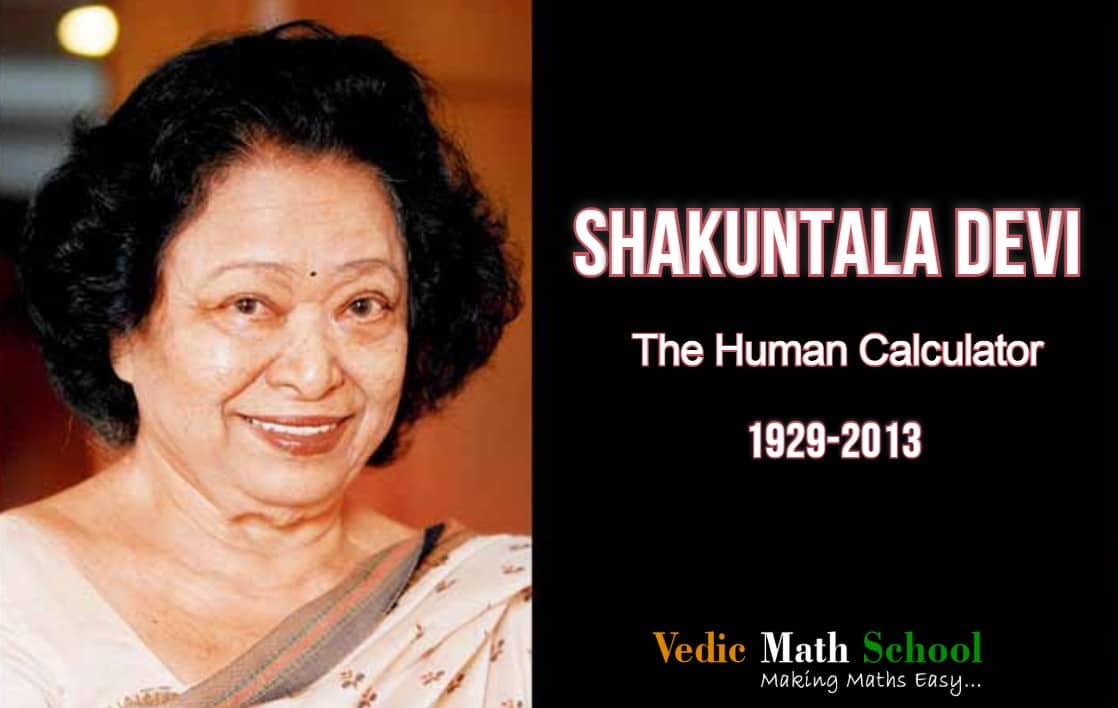 1. Why is she Called as Human-Computer?
She traveled all over the globe and tried to spread her teachings. One of her significant mathematical journeys was Europe tour at the age of 20, Shakuntala appeared on the BBC show where the host, Leslie Mitchell, asked her to solve a complicated math problem.
 She solved the problem within seconds, but the host claimed the answer to be incorrect as it was different from what the host and his entire team had calculated.
 However, later, it was realized that Devi's answer was correct, and the response calculated by the host and his team was incorrect. This news got spread across the world, and she was given the title of the "Human-Computer."
 Similarly, at the University of Rome, one of her answers to a problem was found to be wrong, until the experts re-examined their calculations.
2. Early Life of Shakuntala Devi:
Shakuntala Devi, Indian Mathematician was born in Bangalore, India on 4 November 1929. Her father was a trapeze artist and lion tamer in a circus. Shakuntala Devi dropped out of school because her father, a circus worker, could not afford the monthly school fee of Rs 2.
 She grew up in a slum, and at a very young age, her mathematical abilities were recognized by her father.
 There is an amusing anecdote about how he recognized it. 
 "She was about three and playing cards with her father when he discovered that she was a mathematical prodigy with an uncanny ability to memorize numbers. 
 He was surprised to find that she was winning all the games against him every day. Suspecting some foul play, he began his "investigation" during which he realized that she was memorizing all the card numbers and their sequence as the game progressed in the initial rounds. 
With her memory power, she was able to predict the series of cards in the subsequent rounds in the same game and thus wait to pick cards strategically to help her win."
Her father taught her mathematical operations like multiplication, division & square root. By the time she was 5, she had become an expert at solving math problems, and her father took her to his circus to demonstrate her quick calculation abilities & memory power to the crowds. 
As the word about her skills spread, she started doing roadshows as well across the city. 
Ms. Devi won fame showing her math skills at the circus, and later in roadshows arranged by her father. 
At the age of 6, she gave her first major show at Mysore University, and there was no turning back after that.
Shakuntala had become an expert at solving math problems by the age of 5, Recognising her gift, he decided to quit the circus and nurture her talent.
He began with roadshows, where the young girl, who had not received a formal education, displayed her ability to calculate complex numbers in her head.
With her brilliant mind, Shakuntala Devi was adept at solving Not only arithmetical problems. She could even state the day of the week of any given date in the last century in a jiffy. 
Shakuntala could even outdo some of the fastest available computers of that period.
She states that in an Interview:
"I had become the sole breadwinner of my family, and the responsibility was a huge one for a young child," she once said. "At the age of 6, I gave my first major show at the University of Mysore, and this was the beginning of my marathon of public performances."
4. Guinness Book of World Records:
Amongst her numerous feats, the most prominent ones that fetched her name in the 1982 edition of the Guinness Book of World Records, she also came to be known as "the human computer." 
5. Guinness Book of World Records are:​
At the Imperial College of London, she correctly multiplied two 13-digit numbers in only 28 seconds. she had delivered the result of multiplication of two randomly generated 13-digit numbers (97,686,369,774,870 × 2,465,099,745,779). The numbers were selected at random by a computer, and in case you are wondering, the answer is 18,947,668,177,995,426,462,773,730. This was the achievement that cemented her position across the globe as a 'human computer.'

She had beat the then fastest computer, UNIVAC's time of 62 seconds, and 13,000 instructions. To check her answer, without mathematics, there's nothing you can do. Everything around you is mathematics. Everything around you is numbers.

Shakuntala could find the cube root of 332 812 557 in under a minute.
Shakuntala Devi belonged to an orthodox Kannada Brahmin family. Her father was a circus performer. Not much is known about her mother and siblings. 
Shakuntala got married to Paritosh Banerjee, an officer of the Indian Administrative Service from Kolkata, in 1960. They got divorced in 1979. The couple has a daughter, Anupama Banerjee.
7. Shakuntala Devi Career:
In 1944, Shakuntala became an international name and traveled to several countries including the United States, Hong Kong, Japan, Sri Lanka, Italy, Canada, Russia, France, Spain, Mauritius, Indonesia, and Malaysia demonstrating her expertise in mathematics.
She was also a successful astrologer and wrote many books on the subject. She has also written many texts on mathematics for children, puzzles, cookbooks, and novels. List of the Book is Given Below.
In 1977, she wrote 'The World of Homosexuals' which was one of her most notable books. It was the first comprehensive study of homosexuality in India.
Shakuntala was also an active philanthropist. She started the Shakuntala Devi Education Foundation Public Trust to provide an excellent education to underprivileged children. She has also worked to spread global awareness about India's contribution to Mathematics.
Most Distinguished Woman of The Year by the University of Philippines (1969)

Ramanujan Mathematical Genius Award in Washington D.C (1988)

Awarded Lifetime Achievement Award one month before her death (2013)

On 4 November 2013, Shakuntala was honored with a Google Doodle for her achievements on her 84th birthday.

For her efforts, she was felicitated with the 'Ramanujan Mathematical Genius' Award in the year 1988 in Washington D.C. 

She also founded an NGO called 'Shakuntala Devi Education Foundation Public Trust.' Through this foundation, she provided free education to underprivileged children.
Shakuntala Devi is an accomplished mathematician whose interests also include the mystic field of Astrology.  
While setting up of several mathematics research centers are her plans. After this, the journey continued; she wrote many books for kids so that they can develop an interest in the math subject.
 "She tried to lessen the so-called maths phobia from the children, but sadly somewhere her techniques and efforts passed away to her."
 Devi has also written numerous books, some of which are –  
Puzzles to Puzzle You, 
Fun with Numbers, 
Astrology for you and 
Mathablity.
Among her most significant works was 'The World of Homosexuals' which published in the year 1977. 
This was the first of its kind of work published in India. Besides being an author, she was also a renowned astrologer as well.
In a 1990 journal article about Ms. Devi, Arthur R. Jensen, psychology professor and researcher on human intelligence at the University of California, Berkeley, noted that Devi comes across as alert, extroverted, affable and articulate."
Ms. Jensen Said
When Ms. Devi performed in New York in 1976, an article in The New York Times marveled at her abilities: 
"She could give you the cube root of 188,132,517 — or almost any other number — in the time it took to ask the question. If you gave her any date in the last century, she would tell you what day of the week it fell on."
Shakuntala Devi, an Indian mathematical wizard, known as "the human computer" for her ability to make incredibly swift calculations, died on Sunday 21 April 2013 in Bangalore, India. 
According to D. C. Shivadev, (A trustee of the Shakuntala Devi Educational Foundation Public Trust), the cause of death was respiratory, heart, and kidney problems. 
She is valued like other Indian Mathematicians. Check out what does the Mumbai Educational Trust says about her on the Year of Mathematics.